Cajutel introducing Solar-powered high-speed Internet for West Africa
Cajutel introducing Solar-powered high-speed Internet for West Africa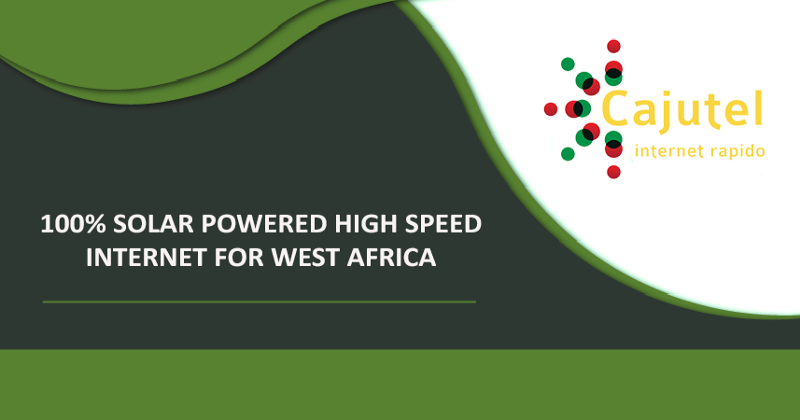 Currently, there are only a couple of mobile service providers in Guinea-Bissau that offers very low-quality internet and for the most part at a much higher cost. A few parts of the nation even face a lack of the first luxuries of living and technologies. The unreliable internet in the region is the result of years of under-investment in infrastructure and technology and poor strategic planning, which has made it difficult for people to connect with others. This unreliable, expensive and snail speed internet has made it troublesome for individuals to connect with others. Subsequently, there is a squeezing requirement for telcos to overcome the connection loopholes between Guinea-Bissau and the outside world.
Cajutel hopes to comprehend this by building the infrastructure that will provide high speed, reliable and affordable internet to more than 1.7 million customers in urban and remote regions of Guinea-Bissau. Along with other backlogs, Africa lacks access to electricity. And many areas that can boast electricity access and grid connectivity still face shortages and rolling blackouts due to lack of capacity, hampering growth and economic development. Cajutel will be using solar-powered resources as an alternative to electricity, which will remove the infrastructure's dependency on power.
Apart from electricity, another hindrance is Network incompetency. The installed network limit in the area is low and can't fulfil the demands as a high number of customers. Therefore, in the current scenario, they can't bear the burden of numerous phone devices resulting in reduced transmission and network inefficiency. Cajutel will rush to react to changes in the market because of a lean working model giving it a competitive edge over substantial telcos who are hampered by slow procedures.
Cajutel can change Africa's telecom scene, mainly through key associations with different telcos, vendors, and kiosks, to give some examples. Investors get an opportunity to part of a truly revolutionary idea.
Cajutel has chosen to centre in this area before expanding internationally. The absence of internet has adversely influenced West Africa's GDP per capita, proficiency, and besides, it's human development index.
With 1.7 Million people getting connected to the internet for the first time, will bring a significant change in west Africa. Internet will open the world of possibilities from improving education to Economy, opening a heap of unexpected open doors later on. This venture will not be to redo an existing foundation since there is not any. Cajutel is bringing the internet connectivity in all over the country, including the remote and rural places that could profit by it.
According to the whitepaper, cajutel is projected to start with the exceptionally sceptical 5 percent populace share in 4 years. The business case is anticipating and taking into consideration the exceptional yield on venture and benefit. Over this, the entire infrastructure will be designed to run off of solar power, assisting with supportability and expenses in the long haul.